Character Above Academics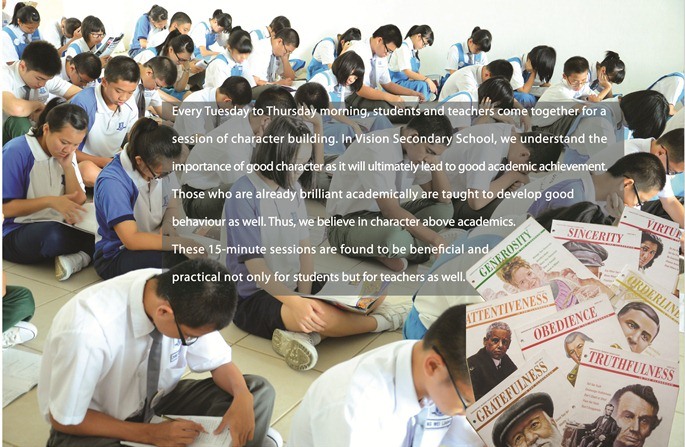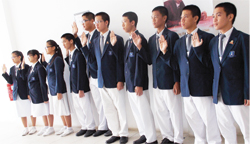 Visionarians are trained to develop self-descipline and leadership. We believe that Character comes before Academic success. A true leader with character and our students are given freedom and opportunity to exercise their leadership skills through service to others, under the safety net of a carefully monitored environment.
Community Service Learning
As we Exist to Impact, Vision School's Community Service Programme is unlike any other in town. Our purpose of engaging students in community service projects such as cleaning the town centre, visiting the retirement homes and such, is to transfer attitudes and skills learnt from outside the classroom into their academic learning, motivating them to achieve excellence. These activities maximise their learning oppurtunities in the area of Character building.

'Love Tawau' Project is an annual activity where the whole school, together with parents & guardians would contribute to the Tawau Community by cleaning up the streets in the town area.
This project is conducted in conjunction with the assessment of student's Moral and Civic projects. Our aim is to create social awareness among the students and the community of Tawau to keep our surroundings clean.

Founded in 1976 by Millard and Linda Fuller, Habitat For Humanity, also known as Habitat is recognised as an international non-govermental and non-profit organisation, devoted to building simple, decent, and yet affordable houses for the poor.
Thanks to Habitat, people across the world are brought together to build not only houses and communities but more importantly give hope to those who are in need. The Habitat program envisions a world where everyone will have a safe and decent place to live in. As challenging as its mission "Building Homes, Building Lives", the Habitat program is indeed a program that truly stimulates the volunteers both physically and psychologically.
In fact, Vision School is the only local school in Sabah which is involved in building houses for the poor with Habitat for Humanity. Our students learn from a young age that there is so much more to life beyond the four walls of their comfortable homes.
The entire school works together to raise funds to buy building materials for the houses. We have so far engaged in three projects of building houses in the outskirts of Kota Kinabalu. The objective of this programme is also to build social cohesion, forging a bond among the students and the world around them, and to instil civic responsibility and citizenry.


Visitation to the Retirement Home of Tawau is carried out every year. It is initiated by the students as the application of what they had learnt in their lesson to honour the elders and appreciate what the students have. Students will spend time caring and getting to know them better.